Regular price
Sale price
$45.98 USD
Unit price
per
Sale
Sold out
Vegan leather top handle handbag purse with adjustable shoulder strap

Elevate your style and ethical standards with our sleek and stylish top handle handbag purse, made from high-quality vegan leather. This versatile accessory features an adjustable shoulder strap and a detachable design, allowing you to carry it as a shoulder bag or crossbody bag. The interior boasts several pockets to keep all your essentials organized.
FEATURES:
Type: High-grade vegan PU leather purse for women, 9.45"(L) x 3.54"(W) x 8.27"(H),
- Design on both sides
- 16.57 Oz. This cute purse comes with adjustable and detachable straps and can be held or crossed in a variety of styles.
- Dimensions: 9.45"(L) x 3.54"(W) x 8.27"(H).
- The shoulder strap length is from 19.5" to 22.3".
- Main capacity includes 1 external zipper opening and closing.
- Moderate capacity, easy to carry.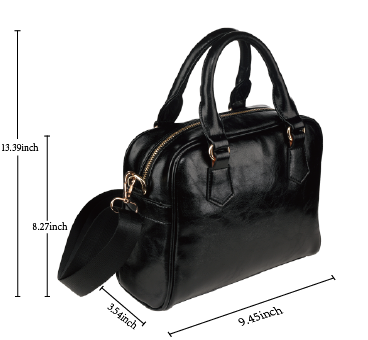 +11,000 satisfied customers

We are grateful for the support of our over 11,000 Starcove customers from more than 40 countries. Every order is shipped with tracking information.

We are thrilled to have received +1,100 x five-star reviews from our satisfied customers across our own store, as well as our Etsy and Amazon stores. It brings us great joy to see the photo reviews that are submitted to us.

Our products offer great value because there is no distributor or retailer taking a cut, as you are buying directly from us.  

We are available 7 days a week, from 9am to 6pm EST, to answer any questions and address any concerns you may have. At our company, customer satisfaction is a top priority.

I am grateful for your support of my small, independent design business.

Filip
Founder and creative designer
30-day Returns and Exchanges

We allow returns of items within 30-days of delivery. Please send us an email prior to sending the item back.

Once we receive the item back and have processed the return we will either refund you or exchange to a different size.

Return address: 11 Sunshine Ave, Riverside, Connecticut, 06878, USA.
About Us

1. We are a small American design business based in Connecticut that works with craft cut and sew ateliers across the US, Europe, and Asia. We offer worldwide shipping and specialize in craft cut and sew techniques.
2. Our unique designs celebrate the joys of life with a touch of humor. We believe that fashion should be more than just practical, it should be expressive and fun. That's why we offer colorful and visually striking alternatives to the typical, boring clothing options.
3. We take a meticulous approach to crafting each order by hand, which helps us to reduce waste and expenses related to excess inventory while also minimizing our environmental impact. This approach also allows us to offer a wider range of styles and variations for you to choose from.
4. We care deeply about the health and well-being of our oceans. We have a special Save our Ocean Collection that supports ocean conservation efforts. By purchasing from this collection, you can help us donate 10% of the sales of this collection to organizations that clean up our seas.
5. Our specialized techniques allow us to create custom clothing just for you. Simply upload a photo or text, and our talented designers will take care of the rest.
6. Customer satisfaction is our top priority. We are thrilled to have had the opportunity to bring happiness to +11,000 customers in 30 countries and have received +1000 glowing 5-star reviews.
+1100 x 5-star reviews

Designed in USA
View full details